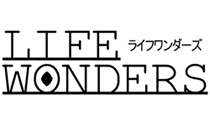 Company Description
Planning, producing, and distributing digital entertainment
Vision
Our company's name is Lifewonders.
Our goal is to create experiences that go a step further toward enabling players to play how they desire than is currently provided in most video games. Instead of directing our products toward a specific audience, we aim to appeal to a diverse range of players and interests.
The first step towards this goal is to produce "games for you" – games made for the LGBT community that players of all sexual orientations can enjoy.
By determining gaps in the current market, we will create works the world has never seen before, clearing the way for completely new markets. In doing so, we hope to deliver plenty of fresh surprises and emotional experiences to players of our games.
In order to reach as many people as possible, we will not limit ourselves to a single language, market, or platform. Not content with being restricted to just our current location of Japan, we will continue to strive to deliver our games as fast as possible to players all around the world.
Many minority creators face difficulties such as needing to go by pen names to protect their identity, not being able to do creative work at their current jobs, or not finding existing markets for their work. Our company strives to protect these minority creators by establishing and maintaining an environment that provides appropriate compensation for creative work.
We set our sights high, but we are currently a small team, and progress is slow. We humbly request your kind support now and going forward.
(c)Lifewonders, LLC