Our Games
Live a Hero! - for iOS & Android(2020-)

According to one theory, an infinite number of parallel universes exist outside our own.
We spend our days thinking of the past, wondering how different things would be if we had acted differently or if our dreams had come true. Among these realms of alternate possibilities, there might exist one in which those events did occur.
This story happens in one of these worlds, where humans, bestial beings, mechanical life forms, and otherworldly creatures walk the streets of a future planet Earth.
Peace is not absolute in this world, however, and the inhabitants face the constant threat of monsters and invaders from outer space. Fortunately, some have made it their mission to protect everyone, and now they spend their days fighting to repel those menaces.
These allies of justice are people like any other—businessmen, police officers, teachers, fishermen, part-timers—who take the mantle of heroes whenever danger approaches.
By borrowing power from alternate realities where their dreams and resolutions have materialized, they obtain the tools to face any threats.
In an unexpected turn of events, you are hired to aid these heroes. Your mission is to live-stream their battles, the viewing ratings serving as the source of the heroes' power, and to observe the infinite possibilities inside every one of them.
Tokyo Afterschool Summoners - for iOS & Android (2016-)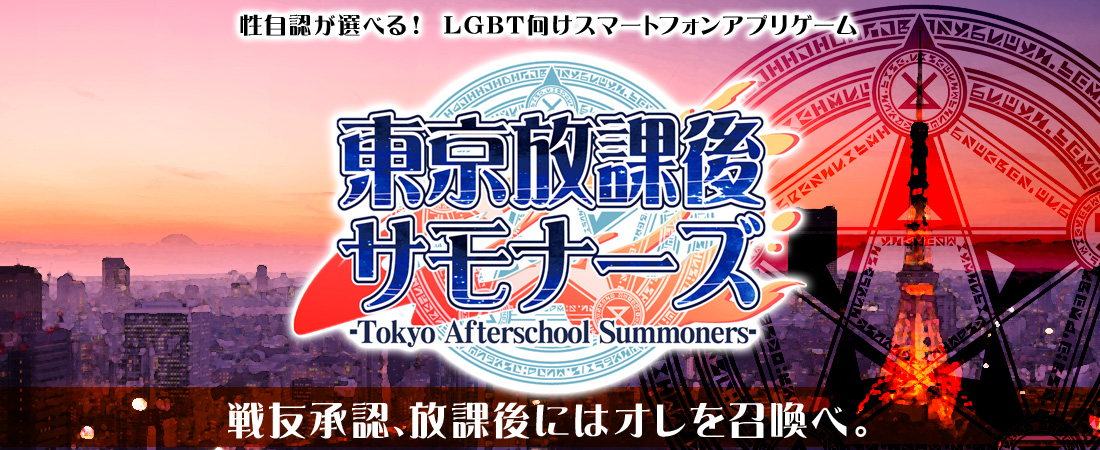 On a certain day, 23 gates appeared throughout Tokyo, and myriad beings from the distant past and future, heaven and earth, and alternate realities started to pour in.
Among them were Therians, Ogres, Angels, Demons, Cyborgs, Faeries, and many other different forms of life who integrated into society after the long period of initial chaos.
These otherworldly creatures, referred to as Transients, now spend their lives as students at various institutions in Tokyo.
Our story begins when a certain Transient appears at one of these many gates.
Fantastic Boyfriends: Legends of Midearth - for iOS & Android(2014-2016)

A smartphone game for the LGBT community.
In this game, you are a hero who is suddenly summoned to a fantastical world of swords and magic.
Will your adventurous, passionate, and perhaps a bit naughty heart, be enough to save the world?!
A grand adventure awaits, so download the app now and become the hero this world needs!